The outdoor experiential learning of the 2020 New Doug High Quality Management Improvement Class of "Cohesion, Stability and Longevity" concluded successfully
---
Cohesion and stability
On May 6, the two-day group building activity of New Doug Technology kicked off in Sanshan Island.
Return to your original heart, let yourself go, and go all out.
For a better tomorrow for New Doug and every family member of New Doug.
Cliff downhill | Always climb the precipice to challenge the thousand-foot cliff
From the natural rock wall with a height of nearly 50 meters, use ropes to descend from the top, step by step to the cliff, to the "edge" of life, and feel the moment before falling from high altitude!
New Doug's friends overcame their psychological fears and obstacles and stood firm to the end.
We encourage each other, transcend ourselves, and become more firm and strong.
Directional off-road | The best team player
Under the leadership of the "king" and "military division", the four "empires" of Qinglong, Xuanwu, White Tiger and Tigers are working together to seize the opportunity.
Starting from Zaidong Hotel, you will pass through the film and television base, Banbi Peak, the Big Buddha, and Yixiantian, and finally arrive at the Niangniang Temple.
We use the wisdom and strength of our team to overcome difficulties, overcome many obstacles along the way, and successfully complete the challenge in a limited time.
"Four Countries" Competition | The chest is full of literature and ink, and the heart is full of poetry and calligraphy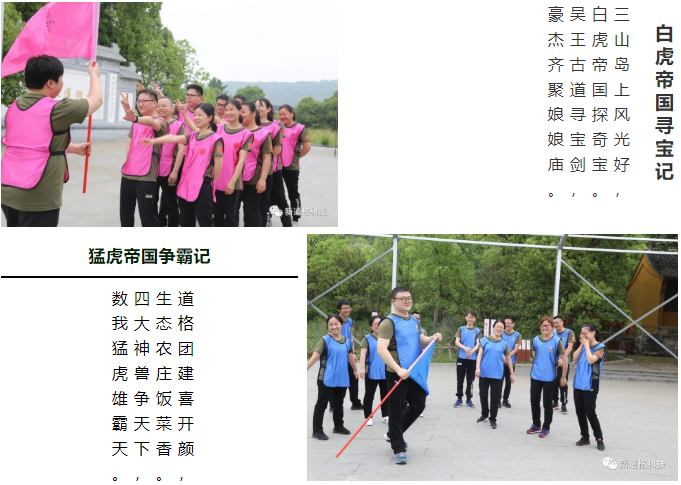 As the saying goes, a single thread does not make a thread, and a single tree does not make a forest!
The same piece of iron can be fused and dissipated, and can also be refined into steel.
The same team can do nothing and accomplish great things.
There are various roles in a team, and everyone should find their own position.
Without perfect individuals, there can be perfect teams!