Product dynamics | New Doug Technology GBD20 mine intrinsically safe vibration sensor successfully passed the on-site review of safety standards
---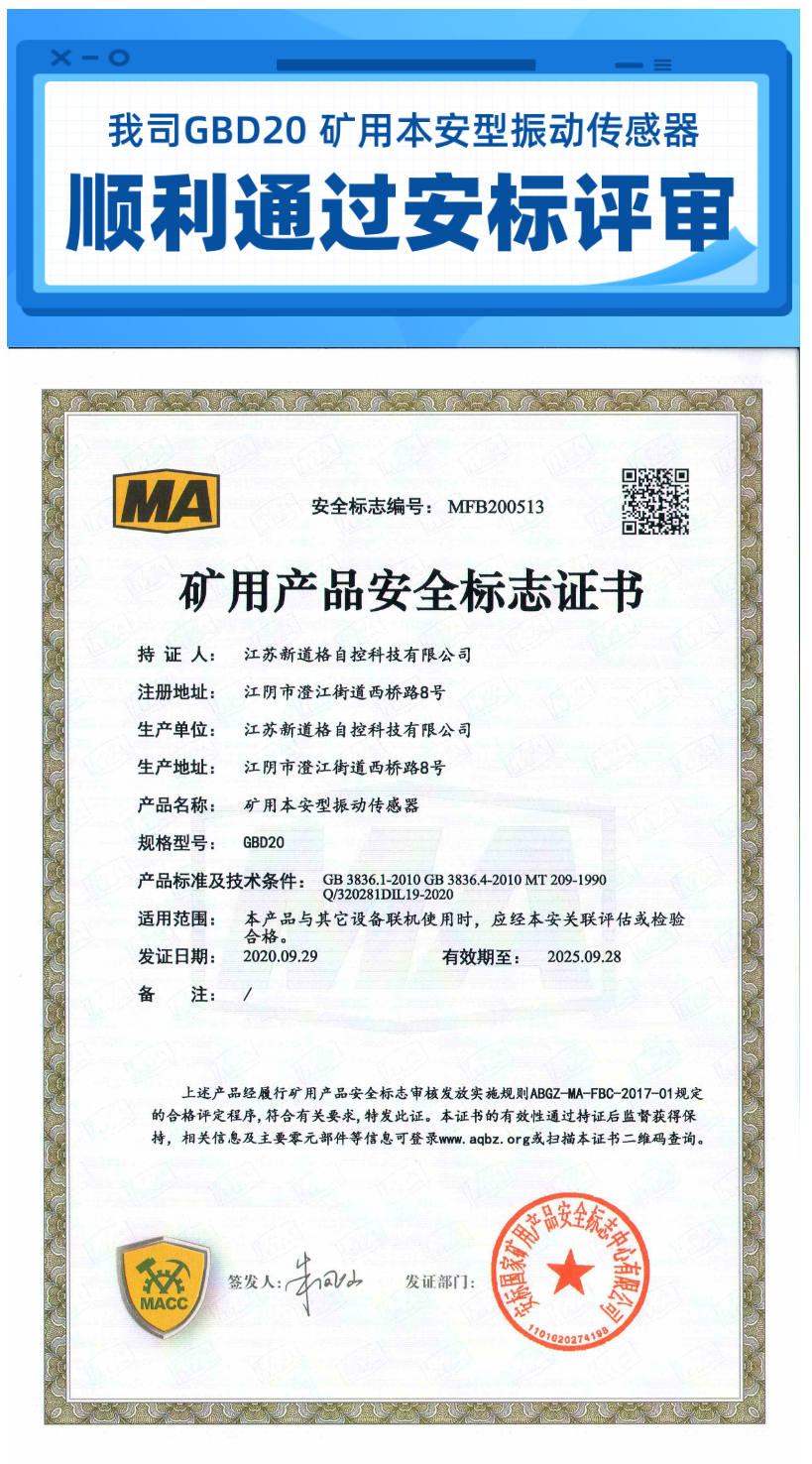 On August 28, 2020, a group of national safety standard review experts conducted on-site supervision and review on the production conditions and quality control system of GBD20 mine intrinsic safety vibration sensor of Jiangsu New Doug Automatic Control Technology Co., Ltd. The relevant management, departments and teams of the company attended the meeting.

The review experts conducted a detailed and strict review of our company from the workshop front line, quality system, management system, data certificates, technical capabilities and other aspects.

Finally, the review team believed that the main body qualification of Jiangsu New Doug Automatic Control Technology Co., Ltd. met the requirements, and the quality system was sound and operating normally; The production equipment and inspection equipment are complete, and the technical force meets the production needs; The personnel of production inspection and other posts shall meet the practical operation ability.

The overall production conditions meet the requirements of relevant evaluation criteria, and have the ability to produce GBD20 mine intrinsically safe vibration sensor products with high quality.
GBD20 mine intrinsically safe vibration sensor is based on the vibration acceleration sensor, which adds a built-in precision integral circuit to realize the vibration conversion, and forms a high-precision vibration measurement system by transmitting corresponding 4-20mA output. The sensor can be directly connected to DCS, PLC or other equipment, and is an ideal choice for measuring the vibration of fans, motors, pumps and other plant equipment.

It can be used in series or parallel with the intrinsically safe system circuit in the coal mine, and can also be used in the non-explosive environment on the ground, such as the vibration measurement of rotating machinery and other equipment such as steel plants, cement plants, power plants, ports and docks. This sensor is applicable to underground coal mine, open pit coal mine, coal preparation plant and other workplaces with gas and coal dust explosion risk, and is powered by intrinsically safe power supply.

After many tests and inspections, the sensor conforms to the provisions of GB 3836.1-2010 and GB 3836.4-2010, and has obtained the "explosion-proof inspection certificate" issued by the national inspection department. It has strong work safety, stability and environmental adaptability.

The acquisition of the certificate fully verified that the R&D, design and production capacity of New Doug Technology fully meet the national standards and meet the market requirements.